Self-care is all the rage these days, and it's no surprise that new and exciting health and wellness treatments are gaining popularity. One such treatment is vitamin infusion therapy, which is quickly becoming a sought-after procedure across the country. But what exactly is an IV Vitamin Drip, and what can you expect from it? Let's dive into the specifics, including the pros and cons.
Delivering nutrients
An IV vitamin drip is a method of delivering nutrients and vitamins directly to your bloodstream through your veins. This allows the fluids to work quickly and effectively, so you can feel the benefits almost immediately. It's important to note that this therapy should only be administered by trained medical professionals. Many people, including celebrities and influencers, swear by this treatment for boosting energy, rehydration, and even speeding up recovery from jet lag.
Is IV therapy safe?
Now, you might be wondering if IV treatments are safe. The answer is yes, as long as they are administered by a qualified healthcare professional in a controlled clinical environment. It's crucial for the practitioner to gather your complete medical history and address any pre-existing conditions that could affect the treatment. A thorough consultation should also be conducted to answer all your questions and concerns before starting the procedure.
Immediate results
So, what kind of results can you expect from an IV treatment? The appointments are relatively quick, taking around 45 minutes in total. Since the fluids are delivered directly to your bloodstream and targeted cells, IV drips offer a range of benefits, including improved immune health, hangover relief, weight-loss support, aesthetic enhancement, jet-lag recovery, and migraine relief. You may feel the effects immediately, but in some cases, it might take a few hours. The results can last up to 2-3 days after the treatment.
A strong immune system and increased energy
Now let's talk about the pros and cons of vitamin intravenous infusion. On the positive side, IV therapy allows for the absorption of up to 99.9% of vitamins, delivering optimal results directly to your bloodstream. This is a significant improvement compared to other delivery forms, such as oral tablets, which only have an 8% absorption rate. The convenience of instant results from a quick and painless procedure is also a major advantage for those with busy schedules. Plus, IV vitamin therapy promotes overall health, a strong immune system, and increased energy levels.
Be aware of side effects
However, it's important to be aware of potential side effects. Some patients may experience slight bruising or inflammation immediately after the procedure, but this usually subsides within a few hours. For those with a low pain threshold, there might be some discomfort during the insertion of the IV drip. While rare, allergic reactions can also occur. It's crucial to have a qualified medical professional administer the treatment to handle any complications that may arise (who has completed a vitamin IV infusion training course & certification. Gathering a thorough medical history from the client is vital to minimize the possibility of unwanted side effects.
An exciting and popular treatment
In conclusion, vitamin infusion therapy is an exciting and popular treatment for various health and wellness benefits. With the right precautions and a qualified practitioner, you can enjoy the convenience and effectiveness of IV treatments. Just remember to be mindful of potential side effects and consult with a medical professional to ensure a safe and comfortable experience.
Why Study With Us

Small class sizes
, allowing us to focus on your needs as a student.
We want you to thrive and go onto to enjoy a long career in beauty.

Our courses are short term and intensive allowing you to train whilst in your current employment and around childcare and give you arecognised qualification.

Highly experienced & qualified tutors to ensure you receive the very best training possible. Our tutors keep up to date with the latest treatments and techniques and maintain their knowledge in this fast paced industry.

Beautiful World Training Academy is well equipped with the latest equipment, technology and products essential for the professional course., and is attached to the Beautiful World Salon enabling you to see and experience what it is like to work in a real salon.
About Us
We are an independent Beauty Training Academy and Beauty Salon in Hounslow, West London.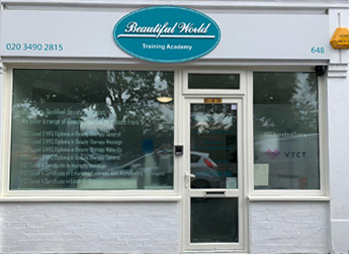 We are an approved training centre for VTCT, Focus, Qualsafe and a CPD "Centre of Excellence".
Our People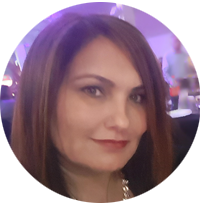 Headed by the principal & owner -Sally - Courses are delivered by a team of dedicated tutors who have a wealth of experience in the beauty industry.
Our beauty school was formed through passion for beauty and the desire to help others achieve their goals.
Sally is very passionate about the beauty industry, and after practicing beauty therapy for many years she took over Beautiful World. .
What Our Customers Say

"I just wanted to say a BIG thank for giving me an excellent training experience at your Beauty academy. I thoroughly enjoyed the VTCT NVQ Level 3 Beauty course and thanks to you and Kay who are brilliant at what you do, the course was so good. I will miss coming in on Tuesdays."


"I appreciate the support and guidance provided throughout the course. I totally recommend your training school to anyone who wants good training, unlike other beauty schools, I won't mention, you were very professional and thorough throughout. Thanks again."


"Excellent courses tutors very good Tutors are very patient and explain everything clearly."


"Course was really nice and the tutor were really helpful! Now I feel more comfortable when I do waxing and have a full Level 2 qualification! Thank you so very much!"