Course Description
This level 4 microblading course is designed for people who want to start or add to a career with eyebrow enhancements.
Course Dates
The course requires 1 Day per week attendance at our academy, spread over 7 weeks, plus an additional Final assessment day.
Course Timings: 10am to 4pm.
Next course start date: Contact us for dates
What Will The Course Give Me?
This qualification allows you to perform microblading eyebrow enhancement services.
Micropigmentation and microblading is a big market in the UK. Local authorities are increasingly tightening up their requirements for registration, so it's a good time to think about completing this level 4 course.
Price
The course price is £2000 (inclusive of all taxes)
Course price includes: Tuition, work packs, assessments days, online resources.
Includes Free Starter Kit (Worth £300)
Starter kit contains:
4 Pigments
10 Disposable hand tools
Eyebrow Pencil for drawing shape
20 Disposable pigment rings
20 Disposable anesthetic cups
Calipers for measuring
1 Practice skins
Course Details
This course comprises of 5 units as follows:
Health and safety in the salon
Client care and consultation
Enhance appearance using microblading techniques
Anatomy and physiology for microblading techniques
Eyebrow Shaping Services
The details include:
Single Stroke eyebrows
Colour therapy
Designing eyebrow
Introduction to Semi-permanent make-up
History of semi-permanent make-up
Clients who want treatment
Setting up your own business
Insurance Guidelines
Hygiene & Safety
Licencing
Clinical waste
Pricing
Understanding the blades and pigments
Consultation
Practical treatments on models
Anesthetics
Aftercare
Anatomy & physiology of the skin
Relevant systems Contra-indications & contra-actions

Why Study With Us

Small class sizes
, allowing us to focus on your needs as a student.
We want you to thrive and go onto to enjoy a long career in beauty.

Our courses are short term and intensive allowing you to train whilst in your current employment and around childcare and give you the globally recognised NVQ level qualifications accredited by The Vocational Training Charitable Trust ( VTCT)

Highly experienced & qualified tutors to ensure you receive the very best training possible. Our tutors keep up to date with the latest treatments and techniques and maintain their knowledge in this fast paced industry.

Beautiful World Training Academy is well equipped with the latest equipment, technology and products essential for the professional course, and is attached to the Beautiful World Salon enabling you to see and experience what it is like to work in a real salon.
About Us
We are an independent Beauty Training Academy and Beauty Salon based in Twickenham, West London.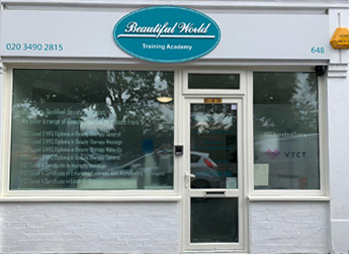 We are happy to hold the status of an approved VTCT training centre
Our People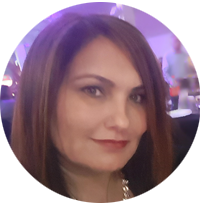 Headed by the principal & owner -Sally - Courses are delivered by a team of dedicated tutors who have a wealth of experience in the beauty industry.
Our beauty school was formed through passion for beauty and the desire to help others achieve their goals.
Sally is very passionate about the beauty industry, and after practicing beauty therapy for many years she took over Beautiful World. .
What Our Customers Say

"I just wanted to say a BIG thank  for giving me an excellent training experience at your Beauty academy. I thoroughly enjoyed the VTCT  NVQ Level 3 Beauty course and thanks to you and Kay who are brilliant at what you do, the course was so good. I will miss coming in on Tuesdays."


"I appreciate the support and guidance provided throughout the course. I totally recommend your training school to anyone who wants good training, unlike other beauty schools,  I won't mention, you were very professional and thorough throughout. Thanks again."   
 

"Excellent courses tutors very good Tutors are very patient and explain everything clearly."  


"Course was really nice and the tutor were really helpful! Now I feel more comfortable when I do waxing and have a full Level 2 qualification! Thank you so very much!"