Course Description
Our Foundation level Facial Injectables and Filler training course is designed for people who want to offer wrinkle reducing treatments and facial aesthetic injectable treatments (Dermal Fillers).
This course is suitable for practicing, qualified beauty therapists or those with medical qualifications.
By the end of the course you will be able to inject the following areas of the face and feel confident in the anatomy of the face:
Upper face - frown, forehead & eyes.
Nose to mouth lines
Marionette lines (mouth to chin)
Corners of the mouth & lips
On successful completion of the course, you will be able to offer treatments such as lip fillers, wrinkle treatments and more, in the lucrative and growing field of Facial Injectables & Dermal Filler.

Course Dates
This is a 4 day intensive course, 10 am to 4 pm
Next course start date: Contact us for dates
Course Accreditations
This is a CPD accredited qualification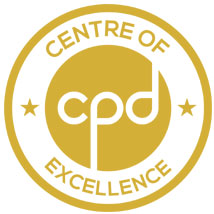 This course is insurable by insurers such as Insync, Digital Risk, subject to other criteria being met.
Entry Requirements
You must meet one of the criteria below to enrol on this course:
Be a medical professional registered to a medical body (e.g NMC, GMC, GDC, GPhC etc.)
Or
Have Level 3 NVQ in Beauty Therapy
Or
Have 6 Months experience in advanced beauty treatment (e.g SPMU, Microblading, Microneedling) WITH 6 A&P Level 3
Or
Have 12 months experience in advanced beauty treatments (e.g SPMU, Microblading, Microneedling)
If you are a beauty therapist and do not match the entry requirements, we do offer an Aesthetics Pathway route. If in doubt, contact us detailing your qualifications and experience.
Price



Special Offer: Contact us for latest special offer pricing.
Fully inclusive of fees, products etc- no hidden charges!


Work packs included in price.


Course Details
Dermal Fillers
To gain an understanding of the use of dermal fillers in the face.
To appreciate and have knowledge of the different types of fillers currently available and the pros and cons of each.
Discuss and have appreciation of various injection techniques.
To understand the anatomical considerations when using dermal filler.
Understand the importance of accurate patient assessment from the initial consultation through to the actual treatment itself by watching a series of live demonstrations.
To understand how to carry out the procedures by undertaking a practical workshop (hands on workshop session) on a live patient.
Using a dermal filler for either lip augmentation, peri oral lines, nose to mouth lines.
Training in dealing with any complications
Dealing with complications/complaints.
Industry guidelines (GMC & HEE).
Anti Wrinkle Treatments
Understand the pharmacology of injectable proteins and be able to explain relevant concepts to patients.
Understand how to store, dilute and administer injectable proteins.
Understand the anatomy and vectors of the face relevant to common treatments.
Understand the appropriate indications for imjectable proteins.
Understand how to assess the face and choose the most effective dose and injection location using our unique protocols.
Understand how to avoid common unpleasing results.
Understand how to avoid both common and rare side effects.
Understand how to manage side effects when they do occur.
Know when it is appropriate to use a combination of injectable proteins and dermal fillers.
Understand common reasons to follow up patients, and common follow up injection points.
Practical Session
Establish confidence through supervised consultation, assessment and treatment of demo models with injectable proteins.
Become familiar with predicting the outcome of treatments in the three main areas of use in the upper face: crows' feet; frown lines; and forehead lines with and without brow lifts.
Learn the important practical differences between 'standard' injections given in general medical practice and the much more skilled aesthetic injection technique.
Develop an injection technique that reduces side effects and increases predictability of results.
Learn to handle and prepare the injections without damaging the delicate protein.
See the importance of good medical photography in practise.
FAQ's
Yes, our course allows you to train if you have one of the following:
Have Level 3 NVQ in Beauty Therapy
Or
Have 6 Months experience in advanced beauty treatment (e.g SPMU, Microblading, Microneedling) WITH 6 A&P Level 3
Or
Have 12 months experience in advanced beauty treatments (e.g SPMU, Microblading, Microneedling)
If you don't have any of those, we offer an Aesthetics Pathway so please get in touch for further information.
Yes, subject to obtaining insurance and in the case of certain injecables, having a prescriber linked to your business, you will be able to offer treatments on completion of this course.
We operate a maximum of 4 delegates on this course, which is led by a highly experienced tutor, as well as being medically supervised.

Why Study With Us

Small class sizes
, allowing us to focus on your needs as a student.
We want you to thrive and go onto to enjoy a long career in beauty.

Our courses are short term and intensive allowing you to train whilst in your current employment and around childcare and give you the recognised qualifications

Highly experienced & qualified tutors to ensure you receive the very best training possible. Our tutors keep up to date with the latest treatments and techniques and maintain their knowledge in this fast paced industry.

Beautiful World Training Academy is well equipped with the latest equipment, technology and products essential for the professional course., and is attached to the Beautiful World Salon enabling you to see and experience what it is like to work in a real salon.
About Us
We are an independent Beauty Training Academy and Beauty Salon with two locations in West London - Twickenham & Hounslow.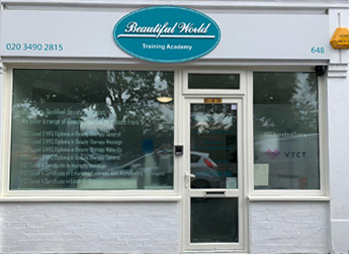 We are happy to hold the status of an approved VTCT training centre
Our People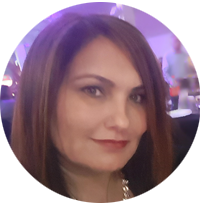 Headed by the principal & owner -Sally - Courses are delivered by a team of dedicated tutors who have a wealth of experience in the beauty industry.
Our beauty school was formed through passion for beauty and the desire to help others achieve their goals.
Sally is very passionate about the beauty industry, and after practicing beauty therapy for many years she took over Beautiful World. .
What Our Customers Say

"I just wanted to say a BIG thank  for giving me an excellent training experience at your Beauty academy. I thoroughly enjoyed the VTCT  NVQ Level 3 Beauty course and thanks to you and Kay who are brilliant at what you do, the course was so good. I will miss coming in on Tuesdays."


"I appreciate the support and guidance provided throughout the course. I totally recommend your training school to anyone who wants good training, unlike other beauty schools,  I won't mention, you were very professional and thorough throughout. Thanks again."   
 

"Excellent courses tutors very good Tutors are very patient and explain everything clearly."  


"Course was really nice and the tutor were really helpful! Now I feel more comfortable when I do waxing and have a full Level 2 qualification! Thank you so very much!"