Course Description
Provides a career path for those who wish to develop their aesthetic practice capabilities within the health and aesthetic sector.
This qualification will prepare learners for employment and support a range of roles in the workplace. It provides a specialist work-related programme of study that provides breadth and depth of knowledge and understanding, practical skills required in the aesthetics sector, preparing professional staff and managers of the future in the aesthetics sector with a generic core of mandatory units that apply in all aesthetics contexts.
Next course start date: Contact us for dates
Learning Outcomes
Analysing, synthesising and summarising information critically The ability to read and use appropriate literature with a full and critical understanding the ability to think independently and solve problems
Apply subject knowledge and understanding to address familiar and unfamiliar problems
Recognise the moral and ethical issues of aesthetics practice and research; appreciating the need for ethical standards and professional codes of conduct
An appreciation of the interdisciplinary nature of aesthetics industry Capacity to give a clear and accurate account of a subject, assemble arguments in a mature way and engage in debate and dialogue both with specialists and non-specialists
Transferable skills and knowledge which will enable individuals to meet changing needs
Adaptability to changes in the aesthetics environment
Motivating individuals to progress to further professional development through future study or as part of their chosen career.
Course Details
Course modules are as follows:
Legal and Regulatory Requirements in Aesthetic Practice
Professional Standards within Aesthetic Practice
Working Collaboratively with Healthcare Professionals
Anatomy, Physiology and Morphology of the Ageing Face
Skin Micro-needling and Chemical Peels
Entry Requirements
A minimum of a Level 4 qualification in a related sector or;
A minimum of 3 years' work experience which demonstrates current and relevant industry
knowledge.
Current and valid Basic Life Support (BLS) and anaphylaxis management training
Price
Contact us for latest course price.
Fully inclusive of exam fees etc- no hidden charges!

Why Study With Us

Small class sizes
, allowing us to focus on your needs as a student.
We want you to thrive and go onto to enjoy a long career in beauty.

Our courses are short term and intensive allowing you to train whilst in your current employment and around childcare and give you arecognised qualification.

Highly experienced & qualified tutors to ensure you receive the very best training possible. Our tutors keep up to date with the latest treatments and techniques and maintain their knowledge in this fast paced industry.

Beautiful World Training Academy is well equipped with the latest equipment, technology and products essential for the professional course., and is attached to the Beautiful World Salon enabling you to see and experience what it is like to work in a real salon.
About Us
We are an independent Beauty Training Academy and Beauty Salon in West London.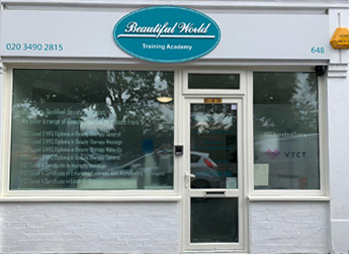 We are an approved training centre for VTCT, Focus, Qualsafe and a CPD "Centre of Excellence".
Our People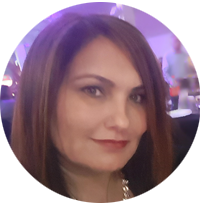 Headed by the principal & owner -Sally - Courses are delivered by a team of dedicated tutors who have a wealth of experience in the beauty industry.
Our beauty school was formed through passion for beauty and the desire to help others achieve their goals.
Sally is very passionate about the beauty industry, and after practicing beauty therapy for many years she took over Beautiful World. .
What Our Customers Say

"I just wanted to say a BIG thank  for giving me an excellent training experience at your Beauty academy. I thoroughly enjoyed the VTCT  NVQ Level 3 Beauty course and thanks to you and Kay who are brilliant at what you do, the course was so good. I will miss coming in on Tuesdays."


"I appreciate the support and guidance provided throughout the course. I totally recommend your training school to anyone who wants good training, unlike other beauty schools,  I won't mention, you were very professional and thorough throughout. Thanks again."   
 

"Excellent courses tutors very good Tutors are very patient and explain everything clearly."  


"Course was really nice and the tutor were really helpful! Now I feel more comfortable when I do waxing and have a full Level 2 qualification! Thank you so very much!"