Skincare plays a vital role in maintaining a healthy complexion and overall well-being. It is a fundamental practice that not only prevents acne and reduces wrinkles but also has a significant impact on mental health, boosting self-esteem and empowerment.
The benefits of skincare extend beyond cosmetic purposes as it actively protects against harmful UV rays, keeps pores clear, and hydrates the skin. An effective skincare routine typically includes cleansing, toning, moisturizing, exfoliating, and the use of sunscreen. Ingredients such as antioxidants, like Vitamin C, and SPF protection are crucial in skincare products. SPF helps prevent premature aging, dark spots, sunburns, and even skin cancer.
It is important to establish a tailored skincare routine that meets individual needs, considering both basic cleansing and specialized treatments. Natural alternatives, such as honey and aloe vera, can also be utilized, and the kitchen pantry offers a range of skincare ingredients.
By prioritizing skincare, individuals can achieve a healthy complexion and enhance their overall well-being.
Key Takeaways
Skincare is essential for overall health and well-being, as it helps maintain a healthy complexion, prevents acne, and reduces wrinkles.
A good skincare routine, including cleansing, exfoliating, and moisturizing, is crucial for achieving and maintaining healthy skin.
Ingredients like antioxidants (such as Vitamin C) and SPF protection should be sought after in skincare products to protect against premature aging, dark spots, sunburns, and skin cancer.
Natural alternatives, such as aloe vera, olive oil, cucumber, lemon, oatmeal, and yogurt, can provide specific benefits for the skin and can be easily incorporated into homemade skincare concoctions.
Why is it important?
Skincare plays a vital role in maintaining a healthy complexion by preventing acne, reducing wrinkles, protecting against UV rays, and promoting hydration, ultimately contributing to overall well-being and mental health.
A proper skincare routine helps keep the complexion clear and free from blemishes by keeping the pores clean and preventing the buildup of oil and dirt.
It also helps to reduce the appearance of wrinkles and fine lines, as well as protecting the skin from the damaging effects of UV rays, such as premature aging and dark spots.
Additionally, skincare promotes hydration, ensuring that the skin remains moisturized and supple.
Achieving a healthy complexion through skincare can boost self-esteem and confidence, leading to improved mental well-being.
Therefore, skincare is not only important for physical health but also for mental health and overall quality of life.
Benefits and Effects
Maintaining a consistent skincare routine can contribute to the overall well-being of one's skin, offering a range of benefits and effects such as improved hydration, reduced acne, and minimized signs of aging.
By following a skincare routine that includes cleansing, exfoliating, and nourishing the skin, individuals can ensure that their complexion remains healthy and vibrant.
Regular cleansing helps to remove dirt, oil, and impurities from the skin, preventing clogged pores and breakouts.
Exfoliation helps to slough off dead skin cells, revealing a smoother and more youthful appearance and acting as a skin booster.
Additionally, proper hydration through the use of moisturizers and hydrating masks can improve the skin's elasticity and suppleness.
Overall, a diligent skincare routine not only enhances the physical appearance of the skin but also promotes a sense of self-care and confidence.
Effective Skincare Routine
An effective skincare routine consists of multiple steps that can be tailored to individual needs and preferences.
The first step in a skincare routine is cleansing, which should be done twice a day, in the morning and night, to remove dirt, oil, and impurities from the skin. This helps to keep the pores clear and prevent breakouts.
Exfoliation is another important step, but it should be done no more than twice a week to avoid stripping the skin of its natural oils. Exfoliating removes dead skin cells and promotes cell turnover, resulting in a smoother complexion.
Nourishing and hydrating the skin is also crucial, and this can be achieved through the use of moisturizers and serums.
Finally, it is essential to protect the skin from harmful UV rays by using sunscreen daily.
By following an effective skincare routine, individuals can maintain a healthy complexion and address specific skin concerns.
Frequently Asked Questions
How can diet and nutrition affect the health of your complexion?
Diet and nutrition can significantly impact the health of the complexion. Nutrient-rich foods provide essential vitamins, minerals, and antioxidants that promote skin health. Adequate hydration and a balanced diet contribute to a clear, radiant complexion.
Are there any specific skincare products or ingredients to avoid?
When it comes to skincare, there are certain products and ingredients that should be avoided. These include harsh chemicals, fragrances, and alcohol, as they can irritate the skin and cause dryness or breakouts. It is important to read labels and choose products suitable for individual skin types.
Can stress and lack of sleep impact the condition of your skin?
Stress and lack of sleep can indeed impact the condition of the skin. Research suggests that these factors can lead to increased inflammation, impaired skin barrier function, and a higher risk of skin conditions such as acne and eczema.
What are some common misconceptions about skincare?
Common misconceptions about skincare include the belief that expensive products are always better, that natural ingredients are always safer, and that more products equate to better results. It's important to educate oneself and find a skincare routine that works for individual needs.
Are there any natural remedies or DIY skincare treatments that are effective for improving complexion?
Natural remedies and DIY skincare treatments can be effective for improving complexion. Ingredients like honey, aloe vera, cucumber, lemon juice, oatmeal, and yogurt have specific benefits. Essential oils can enhance the benefits of homemade skincare concoctions.
Why Study With Us

Small class sizes
, allowing us to focus on your needs as a student.
We want you to thrive and go onto to enjoy a long career in beauty.

Our courses are short term and intensive allowing you to train whilst in your current employment and around childcare and give you arecognised qualification.

Highly experienced & qualified tutors to ensure you receive the very best training possible. Our tutors keep up to date with the latest treatments and techniques and maintain their knowledge in this fast paced industry.

Beautiful World Training Academy is well equipped with the latest equipment, technology and products essential for the professional course., and is attached to the Beautiful World Salon enabling you to see and experience what it is like to work in a real salon.
About Us
We are an independent Beauty Training Academy and Beauty Salon in Hounslow, West London.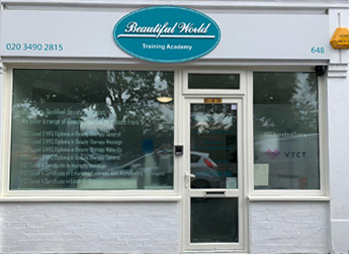 We are an approved training centre for VTCT, Focus, Qualsafe and a CPD "Centre of Excellence".
Our People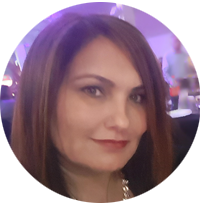 Headed by the principal & owner -Sally - Courses are delivered by a team of dedicated tutors who have a wealth of experience in the beauty industry.
Our beauty school was formed through passion for beauty and the desire to help others achieve their goals.
Sally is very passionate about the beauty industry, and after practicing beauty therapy for many years she took over Beautiful World. .
What Our Customers Say

"I just wanted to say a BIG thank for giving me an excellent training experience at your Beauty academy. I thoroughly enjoyed the VTCT NVQ Level 3 Beauty course and thanks to you and Kay who are brilliant at what you do, the course was so good. I will miss coming in on Tuesdays."


"I appreciate the support and guidance provided throughout the course. I totally recommend your training school to anyone who wants good training, unlike other beauty schools, I won't mention, you were very professional and thorough throughout. Thanks again."


"Excellent courses tutors very good Tutors are very patient and explain everything clearly."


"Course was really nice and the tutor were really helpful! Now I feel more comfortable when I do waxing and have a full Level 2 qualification! Thank you so very much!"