Profhilo, a super skin booster and hydrator treatment, is gaining popularity as an effective solution for rebuilding collagen and reversing signs of aging.
Profhilo stands out as a skin revitalization option, offering impressive benefits. This treatment not only hydrates and nourishes the skin but also stimulates collagen and elastin production, resulting in improved texture, firmness, and overall radiance. The treatment process itself is non-invasive and involves minimal discomfort, making it suitable for a wide range of individuals.
Key Takeaways
Profhilo is a popular skin booster and hydrator treatment
Profhilo stimulates collagen and elastin production, improving skin texture, firmness, and radiance.
The treatment is non-invasive and suitable for a wide range of individuals.
Look for high standard treatments, personalized care, and excellent customer service when choosing a provider.
Benefits of Profhilo
One of the benefits of Profhilo is its ability to rebuild collagen and reverse signs of aging.
Profhilo is known as a super skin booster and hydrator that can effectively improve the quality and texture of the skin. It works by stimulating the production of collagen and elastin, which are essential proteins for maintaining skin elasticity and firmness.
By replenishing these proteins, Profhilo can effectively reduce the appearance of fine lines, wrinkles, and sagging skin. Additionally, Profhilo can also enhance skin hydration, resulting in a more youthful and radiant complexion.
This treatment is highly recommended for individuals who are seeking a non-surgical solution to rejuvenate their skin and achieve a more youthful appearance.
Treatment Process
The treatment process involves a series of steps designed to address signs of aging and enhance collagen production.
Firstly, a thorough consultation is conducted by the practitioner. During this initial stage, the client's concerns and goals are discussed, and a personalized treatment plan is devised.
The treatment itself consists of injecting Profhilo, a super skin booster and hydrator, into specific areas of the face. This stimulates collagen and elastin production, resulting in improved skin texture and elasticity. The injections are typically administered in five strategic points on each side of the face, ensuring even distribution of the product.
The treatment process concludes with aftercare guidance and support provided by the practitioner.
Overall, the treatment process is efficient, effective, and tailored to meet the individual needs and desires of each client.
Frequently Asked Questions
Are there any side effects or risks associated with Profhilo treatment?
Profhilo treatment may have potential side effects and risks, including bruising, swelling, redness, and tenderness at the injection site. In rare cases, infection, allergic reactions, and migration of the product may occur. It is important to consult with a qualified professional before undergoing the treatment.
How long does the effect of Profhilo treatment last?
The effects of Profhilo treatment typically last between 6 to 12 months. However, individual results may vary depending on factors such as age, lifestyle, and skin condition. It is recommended to consult with a professional for personalized advice.
Can Profhilo be used in conjunction with other aesthetic treatments?
Profhilo can be used in conjunction with other aesthetic treatments. Its unique formulation allows it to work well with other procedures such as dermal fillers and Hydrafacials, enhancing the overall rejuvenation and anti-aging effects on the skin.
Is Profhilo suitable for all skin types and ages?
Profhilo is suitable for all skin types and ages. It is a super skin booster that rebuilds collagen and reverses signs of aging.
How many sessions of Profhilo treatment are typically required to achieve optimal results?
On average, two sessions of Profhilo treatment are typically required to achieve optimal results. However, the exact number of sessions may vary depending on individual factors such as skin condition, age, and desired outcome.
Why Study With Us

Small class sizes
, allowing us to focus on your needs as a student.
We want you to thrive and go onto to enjoy a long career in beauty.

Our courses are short term and intensive allowing you to train whilst in your current employment and around childcare and give you arecognised qualification.

Highly experienced & qualified tutors to ensure you receive the very best training possible. Our tutors keep up to date with the latest treatments and techniques and maintain their knowledge in this fast paced industry.

Beautiful World Training Academy is well equipped with the latest equipment, technology and products essential for the professional course., and is attached to the Beautiful World Salon enabling you to see and experience what it is like to work in a real salon.
About Us
We are an independent Beauty Training Academy and Beauty Salon in Hounslow, West London.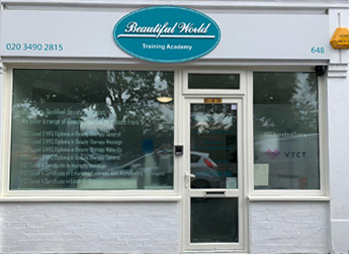 We are an approved training centre for VTCT, Focus, Qualsafe and a CPD "Centre of Excellence".
Our People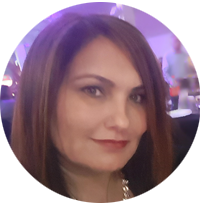 Headed by the principal & owner -Sally - Courses are delivered by a team of dedicated tutors who have a wealth of experience in the beauty industry.
Our beauty school was formed through passion for beauty and the desire to help others achieve their goals.
Sally is very passionate about the beauty industry, and after practicing beauty therapy for many years she took over Beautiful World. .
What Our Customers Say

"I just wanted to say a BIG thank for giving me an excellent training experience at your Beauty academy. I thoroughly enjoyed the VTCT NVQ Level 3 Beauty course and thanks to you and Kay who are brilliant at what you do, the course was so good. I will miss coming in on Tuesdays."


"I appreciate the support and guidance provided throughout the course. I totally recommend your training school to anyone who wants good training, unlike other beauty schools, I won't mention, you were very professional and thorough throughout. Thanks again."


"Excellent courses tutors very good Tutors are very patient and explain everything clearly."


"Course was really nice and the tutor were really helpful! Now I feel more comfortable when I do waxing and have a full Level 2 qualification! Thank you so very much!"