Are you struggling to get rid of stubborn fat in certain areas of your body, no matter how hard you try with diet and exercise? Don't worry, it's completely normal! Genetics can play a role in where your body stores fat. If you've considered cosmetic surgery but are hesitant about the risks and costs associated with it, there may be a low-risk alternative solution for you.
Target stubborn fat
Fat-dissolving injections, also known as injection lipolysis, can help you target those problem areas and dissolve stubborn fat. They must be administered by a practitioner who has undertaken training in fat dissolving injections & lipolysis. It's important to note that these injections are meant to complement a healthy lifestyle and are not a substitute for weight loss. You'll still need to maintain a balanced diet and exercise regularly for long-term results.
Noticeable results within 8 weeks
Aqualyx weight loss injections are one of the leading brands of fat removal injections. This treatment has a proven safety record and can provide noticeable results within approximately eight weeks. The best part is that there is minimal downtime, so you can return to your daily activities the same day as the treatment.
Dissolving fat cells
Aqualyx injections can be used to treat various areas of the body, including the face, upper body, and lower body. The main component of these injections is deoxycholic acid, a naturally occurring acid in the body that disrupts fat cells when injected into the subcutaneous layer of fat. The fat cells dissolve and are then released and drained away by the lymphatic system.
Not a quick fix
If you're wondering if you're a suitable candidate for fat-dissolving injections, it's important to consider your individual situation. These injections may be a good fit for you if you've made healthy lifestyle changes but are still struggling to get rid of localized pockets of fat. However, it's crucial to understand that these injections are not a quick and easy way to lose weight. They are meant to provide an extra push for those who are close to their ideal body weight but need help achieving their desired look.
Multiple sessions required
Results from fat-dissolving injections are not immediate. You will need multiple sessions, typically every three to four weeks, until your desired body shape is achieved. It usually takes around eight weeks to see visible results, depending on factors such as the lifestyle changes you make to complement the procedure.
Minimal risk
Rest assured, fat-dissolving injections are safe with minimal risks and complications. Aqualyx injections have been approved by regulatory agencies and have a low incidence of side effects. Temporary skin irritation, mild bruising, and swelling around the injection site may occur but will subside within a few days.
Results can vary
The amount of fat removed by fat-dissolving injections can vary based on factors such as the area treated, the number of sessions, water intake for lymphatic drainage, and individual physiology and general health. It's important to note that while the fat is permanently removed after treatment, it's still possible to gain weight if you don't maintain a healthy lifestyle.
In conclusion, fat-dissolving injections can be an effective and low-risk solution for those struggling with stubborn fat deposits. They can help you achieve your desired body shape when combined with a healthy lifestyle. With minimal downtime and noticeable results, these injections may be the solution you've been looking for.
Why Study With Us

Small class sizes
, allowing us to focus on your needs as a student.
We want you to thrive and go onto to enjoy a long career in beauty.

Our courses are short term and intensive allowing you to train whilst in your current employment and around childcare and give you arecognised qualification.

Highly experienced & qualified tutors to ensure you receive the very best training possible. Our tutors keep up to date with the latest treatments and techniques and maintain their knowledge in this fast paced industry.

Beautiful World Training Academy is well equipped with the latest equipment, technology and products essential for the professional course., and is attached to the Beautiful World Salon enabling you to see and experience what it is like to work in a real salon.
About Us
We are an independent Beauty Training Academy and Beauty Salon in Hounslow, West London.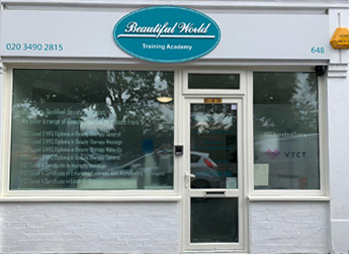 We are an approved training centre for VTCT, Focus, Qualsafe and a CPD "Centre of Excellence".
Our People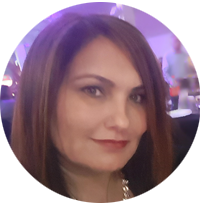 Headed by the principal & owner -Sally - Courses are delivered by a team of dedicated tutors who have a wealth of experience in the beauty industry.
Our beauty school was formed through passion for beauty and the desire to help others achieve their goals.
Sally is very passionate about the beauty industry, and after practicing beauty therapy for many years she took over Beautiful World. .
What Our Customers Say

"I just wanted to say a BIG thank for giving me an excellent training experience at your Beauty academy. I thoroughly enjoyed the VTCT NVQ Level 3 Beauty course and thanks to you and Kay who are brilliant at what you do, the course was so good. I will miss coming in on Tuesdays."


"I appreciate the support and guidance provided throughout the course. I totally recommend your training school to anyone who wants good training, unlike other beauty schools, I won't mention, you were very professional and thorough throughout. Thanks again."


"Excellent courses tutors very good Tutors are very patient and explain everything clearly."


"Course was really nice and the tutor were really helpful! Now I feel more comfortable when I do waxing and have a full Level 2 qualification! Thank you so very much!"